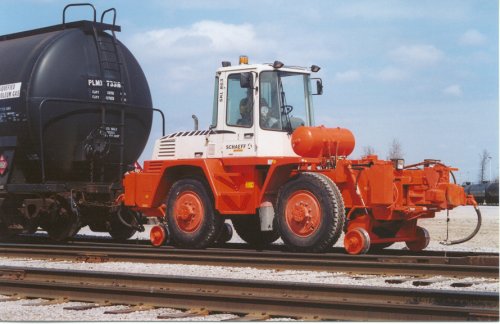 The
Terex 863
R
ail
S
witche
r we have for leae
is a

rubber tire on rail Mobile Railcar Switcher with an infinitely variable speed transmission. The standard unit comes with 24 cfm Train Air Brakes, Rail Sanders, Load Sensing Guide Wheels, Front and Rear Work Lights, Telescoping Mirrors, Switching Steps and a Two-Man Cab. The
RailSwitcher
offers exceptional control when handling railcars on rail, like a locomotive, but at

lower cost

and

increased efficiency

.
The
R
ail
S
witche
r

Load Sensing Guide Wheel System
maintains constant weight on the rail wheels to develop maximum traction. As the machine travels through dips in the track, or over a track switch, the rail wheels automatically compensate to maintain a constant load on the rail wheels. The rail wheels are positioned very close to the rubber tires which results in optimum responsiveness on rail. The mobility of the unit allows it to get off track without a crossing.
Rubber Tire Drive Benifits
Develops 85% coefficient of friction.
Utilizes standard AAR couplers as well as UIC, transit or other coupling systems.
Drive train is pneumatically cushioned to reduce rail movement shock loading.
Direct drive requires no onboard computer assistance for maximum traction.