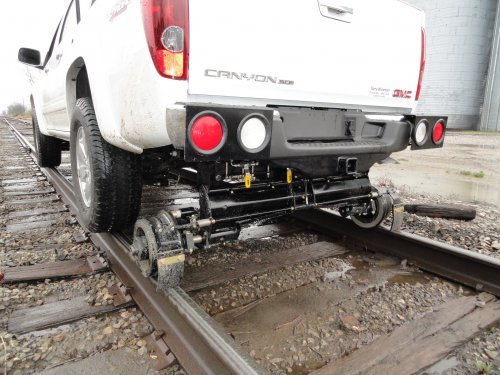 0505 Torsion Ride "Crossover" Rail Gear
(Scroll Down To See Video's)
Model 0505 system fits trucks less than 6,000 GVW and "Crossover SUV" trucks. The Guide Wheels adapts to trucks for the purpose of travelling on the highway or railway.
The Guide Wheel system is hydraulically raised and lowered by dual self contained hydraulic pumps that are activated by either cab controlled electric switch or push a push button control located on each end of the vehicle.
The system is designed to eliminate the guide wheels from extending beyond the standard front and rear bumpers when installed on most trucks. The system utilizes Mitchell's 4-Wheel Independent Torsion Ride Suspension Technology that allows the Guide Wheels to fit in a compact envelope not possible with other Guide Wheel suspension systems. With the elimination of the Guide Wheels extending beyond truck bumpers, there is no need for Rail Gear bumpers, sight rods or custom floor plating materials to take up the gap.
The 0505 Guide Wheels has standard safety features not found on most rail gear such as the Automatic Pin Locking

mechanism

that securely locks the Guide Wheels in the raised and lower positions, automatic retractable rail sweeps that are spring loaded in the on track position.
The 0505 Guide Wheel system comes standard with precision-machined forged single piece composite rail wheels that reduce railhead noise up to 90%. The composite rail wheels are perfectly balanced to deliver an exceptional smooth ride on rail.
The front and rear guide wheel units are identical modular units. The guide wheel kits comes complete with mounting brackets, built-in de-rail skids and steering wheel lock.
Available options:
Cartridge Style Rail Shunts
Rail Wheel Viewing Camera
Reversing Railroad lights
The 2011 GMC Canyon 4x4 as shown equipped with Composite Rail Wheels, Rail Shunts, Camera System, Reversing Railroad lights, spare tire and strobe:
2011 GMC CANYON 4x4 CREW CAB
SPECIFICATIONS WITHOUT RAIL GEAR
Front GAWR: 2850 lbs
Rear GAWR: 2896 lbs
Curb Weight: 4218 lbs
2011 GMC CANYON 4x4 CREW CAB
TRUCK SPECIFICATIONS WITH RAIL GEAR
Total Weight of truck with Rail Gear: 4780 lbs
Front Axle Weight: 2660 lbs
Rear Axle Weight: 2140 lbs
Net payload available as equipped: 760 Lbs
TRUCK ORDERING SPECIFICATIONS
Order 4x4 with Z71 Off-Road Suspension