Hydraulic Drive - Model 2020 Hydraulic Drive Rail Gear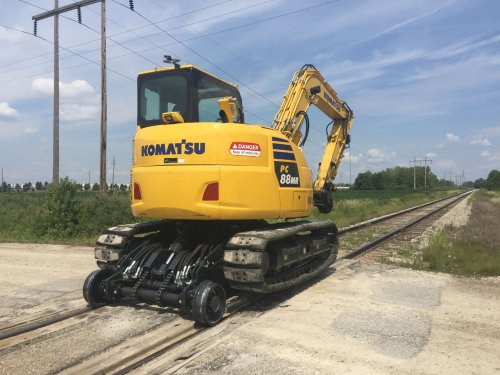 Description:
Mitchell Model 2020 Hydraulic Drive Rail Gear for medium Hydraulic Excavators with base weights up to 20,000 lbs. The system is available in kit form or Mitchell Factory Install. The Hydraulic Rail Gear Drive system consists of front and rear mounted hydraulic drive axles that are driven off the excavator hydraulic system. The drive axles can be geared for various speeds and torque capabilities.
The front and rear hydraulic drive axle assemblies pin to the provided Rail Gear fixed frame that is welded to the excavator car body. Both front and rear Rail Gear axles are driven by heavy duty hydraulic motors. Hydraulic Hoses that normally connect to the rear excavators drive motors are re-routed to the Mitchell control valves and new hydraulic hoses are connected between the Mitchell control valves and the excavator rear drive motors.
The Rail Gear drive system is controlled with manual valves located on the rail gear .
Video Review: