RT Crane Attachments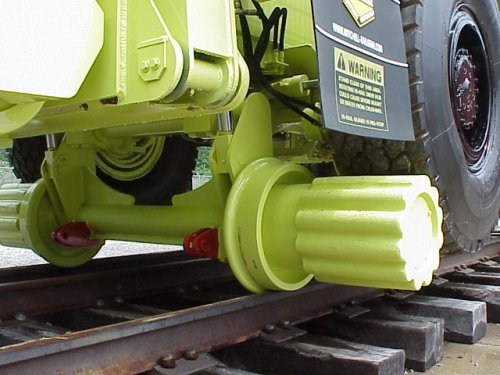 Description:
Friction Drive Hi-Rail
Friction Drive Hi-Rail Gear - RT Crane Friction Drive Hy-Rail gear is adaptable to many types of rubber tired vehicles including cranes, front-end loaders, excavators, skidders and well as many specialty vehicles.
Our Friction drive systems are available for different weight class vehicles. We have a variety of systems that we install for different applications that require different size forged rail wheels and different size friction drive hubs.
There are some common features that are incorporated in each system such as cast drive hubs that pilot on the rail wheels that engage the tire in such as manner that does not harm the tire but also delivers maximum traction and braking capability. Another feature is the durable forged rail wheels that provide long life.
The Friction Drive Hy-Rail system is the most reliable trouble free system to self propels rubber-tired machines on the railroad.