RT Crane Friction Drive Hi-Rail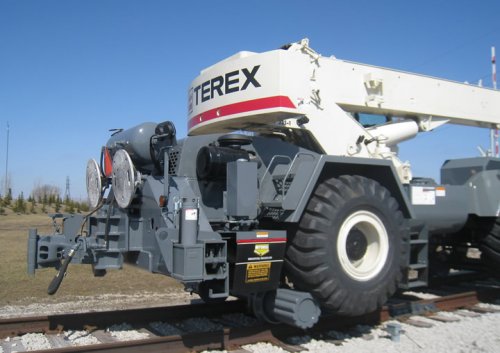 Description:
Terex RT-230 / RT-555
Rough terrain cranes of various sizes can be equipped Mitchell Friction Drive Hi-Rail can be used as a lifting crane on rubber tires, on outriggers and on Rail. The friction drive hi-rail gear installed on RT cranes is a heavy duty system that self-propels on rail. Model RT60 typically installed on cranes used to lay rail and used for various lifting applications on/off rail.
The larger models RT80 and RT100 are typically used to transport the crane from one location to another and then the outriggers are used to make lifts.
Models
RT60 - Base Cranes up to 60,000 lbs.
RT80 - Base Cranes up to 80,000 lbs.
RT100 - Base Cranes up to 100,000 lbs.
Popular Options
Front & Rear Vertical Couplers
Train Air Brake System
Rail Sanders
Reversing hi-rail lights
Hi-Rail lights for night operation
YouTube Video : http://www.youtube.com/watch?v=D6gskSwZkls