3333 Under Cab Rail Gear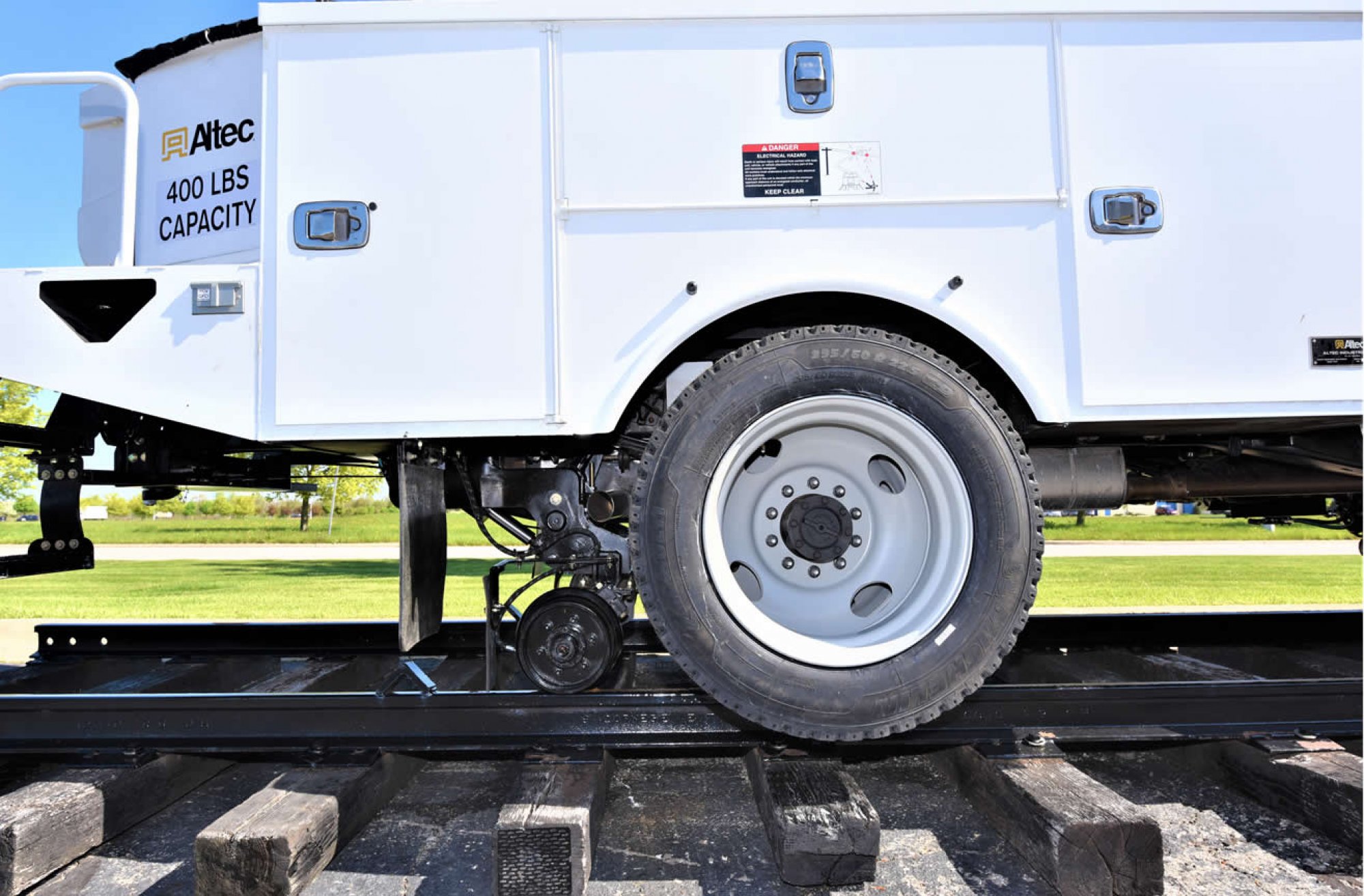 Description:
3333 Flexiride Under-Cab Rail Gear
Model 3333 Rail Gear fits Hi Rail Vehicles for Sale up to 19,500 gross vehicle weight such as a Ford F-550. Our Hi Rail Truck Rail Gear adapts to railroad trucks for the purpose of traveling on the highway or railway. The Rail Gear is hydraulically raised and lowered by a single high flow self-contained hydraulic pump that is activated by outside push button electric switches. This Hi Rail Gear Truck Gear is unique for crew cab long wheelbase trucks because the Rail Gear is designed to negotiate 82-ft curves found on many transit railways. The rear Rail Gear is our 3333 Flexiride Rail Gear that feature independent suspension and locks over-center like aircraft landing gear. The front Rail Gear is positioned behind the cab to shorten up the Rail Gear wheelbase. The Rail Gear comes standard with precision-machined forged rail wheels, mounting brackets; de-rail skids and steering wheel lock.
The front and rear Rail Gear is equipped with disc brakes. Mitchell's Electronic Brake Control for Rail Gear disc brakes applies the rail brakes electronically as soon as the brake pedal is engaged. Since our brake controller has no moving parts or pendulums to adjust, they can be mounted in virtually any position and require no leveling - ever. The slim, compact design and contoured shape are combined to provide more under-dash clearance than any other brake control. A conventional four wire hook-up is illustrated in easy-to-follow instructions. Mounting bracket and hardware is included.

The amount of braking power (output) and rate of application (sync) are both adjustable for the individual driver's preference, rail conditions load. The driver can control the amount and rate of braking from soft to aggressive and the brakes can be manually applied. For ease of adjustment, an output control is located on the front of the brake control. The brake controller has a thumb wheel adjustment and its output indicator is a digital display, which shows the output when the brakes are applied. The sync control is a slide adjustment located on the side of all the brake controls. The brake controller output indicator will digitally display the sync setting. In case of an overload, caused by either a short of low power, the brake controller will display an overload warning.
Additional Options:
Rail Shunts
In-cab Controls