Terex RT335 - RT555 30-55 Ton Crane Railcar Mover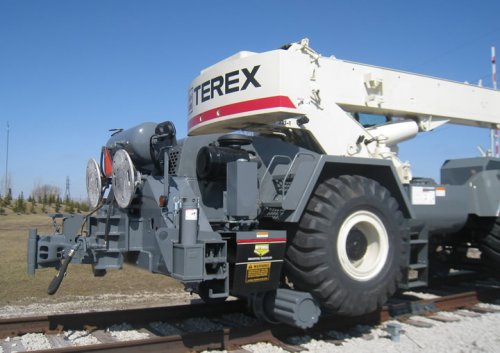 Description:
Terex RT230 - RT555-1 Mobile Crane with Mitchell Railcar Moving Attachments. RT cranes from 30 to 55 ton can be equipped to function like a locomotive crane.
The Standard Terex RT230 - RT555-1 quipped with Mitchell Friction Drive Rail gear, Train Air Brakes and Rail Sanders.
The advantage of the Mitchell Friction drive Rail Gear system over any other drive system is that it is able to utilize the gear reduction that exists is the standard crane axles to deliver both speed and high torque to be able to pull railcars. The crane can get on and off track anywhere without a crossing. When you need to move railcars simply put down the rail gear and hook up the train line brake hose and control the railcar brakes from the cab of the crane. See the crane on rail. Link to Youtube below:
http://www.youtube.com/watch?v=D6gskSwZkls